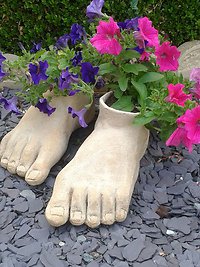 WHAT IS REFLEXOLOGY?
LOVE your feet, LOVE your body and give yourself a treat today.
Reflexology is an extremely effective holistic therapy dating back 5,000 years or more when the ancient Chinese, Egyptians, Aztecs and American Indians worked on feet to promote good health. It can performed on the feet, face, ears and hands.
It is practiced by applying pressure with hands to the reflex points throughout the body. These link with energy pathways (meridians) to all parts of the body. It is used for Pain, Maternity, Infertility, Cancer support.
Reflexology is a holistic healing technique, working on the whole person with the object of inducing a state of balance and harmony.
WHAT ARE THE BENEFITS?
One of the most important benefits of Reflexology is its efficiency in reducing stress by inducing deep relaxation. I have people that travel from all over the country and many have been coming for treatments for over 10 years, not because of illness, but because they recognise the benefits of maintaining good health and balance. Many people who have experienced long term health issues find the treatment very healing and the health issues are cleared. 99% of my clients are through word of mouth recommendation.
Reflexology may be helpful in the following areas:
Stress related conditions

Muscular and joint pain

Breathing disorders

Headaches and Migraines

Digestive disorders

Hormonal imbalances

Fertility issues

Improving performance of athletes and sports people

Faster recovery from illness

Preventative medicine

Reflexology-Aylesbury is "complimentary" to Orthodox medicine, NOT an alternative. People of any age can receive positive benefits from this treatment. Every treatment plan is individual to the persons needs and the application and the effect of the therapy are unique. Imbalances can be detected which prevent the body functioning effectively, then the body's own natural equilibrium is restored encouraging the body to heal itself.